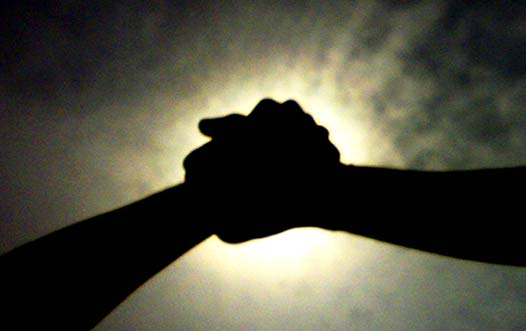 Richard (now Radhanath Swami) learnt an important lesson while staying at Bon Maharaj's ashram. One devotee Jagannath requested Richard to take a group photograph of him and his friends. Since there was only one roll left and Richard's friend David wanted to take some special photo later, they decided to pretend to take the photo. The next day Jagannath came to know of this deception and cried tears at this duplicitous behaviour of Richard.
Radhanath Swami writes in 'Journey Home' that Jagannath cried tears that a devotee of Krishna should never treat another human being with such indignity. We should respect all others and duplicity is a terrible disease. Radhanath Swami writes his realization:
Such an insignificant transgression would be hardly noticed. But in a devotional culture, soft-heartedness and integrity are held sacred. What really is the culture of devotion? It is so very subtle, but it fertilizes the field of the heart so that the seed of true love may grow.
Jagannath felt sorry for Richard and said that he had trusted him and now Richard had betrayed that trust and disappointed his expectations. Radhanath Swami learnt the lesson that a real devotee should never treat anyone cheaply.
Radhanath Swami has time and again emphasized that for any family or community to sustain relationships during difficult times, and be united in the long run, trust is absolutely essential. Trust in simple words means 'confidence' and the opposite of trust-distrust- is 'suspicion'. Trust, or lack of it, is the root of success or failure in our relationships. In a climate of trust, spiritual aspirants can stay together and serve cooperatively to please God. Advanced spiritualists may love everyone due to their magnanimous nature but they trust a few who are responsible and have strong character. Radhanath Swami also reveals that if there are poor trust levels in an ashram or society, different maladies can strike: Politics, burn-outs (getting fried out), bureaucracy, slowness, and inefficiency. "With poor trust levels, we have highly selfish individuals, each trying to compete and outdo the other. The individuals become personally ambitious and the organization suffers."
I read in Stephen Covey's book about a 2005 survey that shows that in U.S.A only 22% people trust media, 8% trust political parties, and only 14% Americans believe that others can be trusted. In Great Britain, in 1975 60% of the population believed other people could be trusted; today it's down to 29%. In the recent elections in India, most places polling was 35-50%. Numerous scandals in the financial markets and even amongst spiritual circles have made people loose trust in others.
How to become trustworthy? Radhanath Swami says trustworthiness is based on the principle of character (what we are as persons), and the principle of competence (what we are able to do as persons). For example, if you have faith in my character as a person, but not in my competence for a particular service, you may trust me as a friend, but you may not trust me to provide you with needed services. Alternatively, you might trust my intellectual and technical competence as a manager or teacher but may lack confidence in my character.
Character is a constant; it's necessary for trust in any circumstance. Competence is situational; it depends on what the circumstance requires. Radhanath Swami points out that many people have devoted a great deal of time, energy and money in acquiring and maintaining a high degree of competence to practice different professions and even services in spiritual organizations. But what about our ethical character? Each one of us has to build and maintain this aspect of our trustworthiness if we want to be effective in inter personal relations.
As Radhanath Swami learnt from Jagannath we have to be truthful and simple. I was reflecting what is a common result when we learn that someone has lied to us? Whatever he or she says after that may be suspected of being false, however true it may be. Likewise, lies defended as white cannot always be easily dismissed. What we perceive as harmless or even beneficial may not be so in the eyes of the deceived. Eventually we lose grace of the divine due to our taking other souls cheaply.
Related Posts:
---
---
81 Comments
---