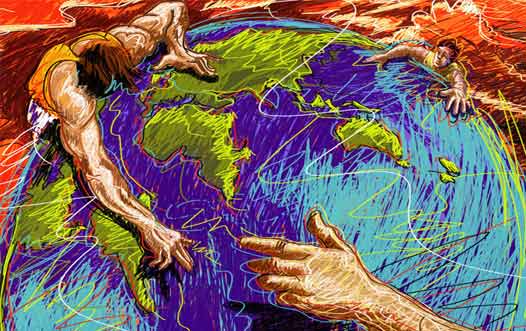 J.Krishnamurti impressed upon Richard (now Radhanath Swami) the need to give up superficiality in spiritual life. He launched a heavy tirade against gurus and spiritual institutions. He also demonstrated an amazing power of logic and conviction. Richard pondered over his teachings and noted that J.Krishnamurthy was gentle, kind and humorous on a personal level. Richard realized that Eastern literature was filled with histories of enlightened saints who carefully followed their religion or guru. Richard concluded that he couldn't disregard all of them on the basis of this one person's realization. At the same time Richard acknowledged his call for personal responsibility for our spiritual life. He learnt an important lesson; if we become overly attached to the externals of a spiritual path, we may forget the very purpose of the path: to purify our heart.
One of the most common themes of Radhanath Swami has been to call upon all practitioners, especially those in leadership position, to be responsible in their spiritual lives. He says a guru should never think he is qualified to be a guru. He should know that this title is an opportunity provided for service, and not a means to earn a livelihood or worse get followers and respect. Radhanath Swami believes that spiritual life provides us an opportunity to raise our level of consciousness and become free from false pride. This is the responsibility we all must take- to be free from the shackles of pride.
I remember the day Radhanath Swami accepted me as his disciple in a formal ceremony. Later I went to his room to thank him for having accepted me as his student. I had rehearsed a small speech that I would tell him; how much gratitude I have for him. But no sooner had I said, "Thank you Radhanath Swami for accepting me as your student…" he humbly interrupted me. "No, I must thank you for having officially accepted me as your servant today. I may be your guru, but that only means today you have given me a chance officially to be your servant. I thank you and pray to God that I get the strength to serve all of you." Needless to say I was dumbfounded and had nothing more to say. I realized what a responsibility it is to be a guru or teacher. As Radhanath Swami says, "Power brings along with it the responsibility to utilize it properly." Radhanath Swami urges those in teacher position and those representing a spiritual institution to be careful and also selfless. "Taking responsibility of others means to be selfless. We have to put aside our own well-being and desires as secondary and think primarily of what is best for the persons who are looking up to us."
Even on a family and personal level where relationship building is critical, Radhanath Swami emphasizes that there cannot be love without trust and there cannot be trust unless we take the responsibility to act in a way that people can trust us. Responsibility for what we do and also for what happens to us is critical to be empowered to be instruments of God.
Related Posts:
---
74 Comments
---