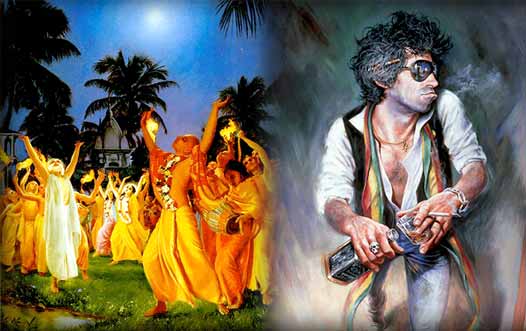 Once, Richard (now Radhanath Swami) landed at a Hashish dungeon at Kandahar, surrounded by old men smoking the most powerful and expensive hashish in the world. Richard also tried to smoke but he collapsed on the ground, rolling violently back and forth. He thought his lungs and throat would be ripped to shreds. Richard then reflected on the times he had sought relief, happiness, or meaning through intoxication. He realized that chemical or herbal stimulants couldn't induce higher spiritual perceptions; in fact they had severe limitations. Richard knew that getting intoxicated was an artificial state and would draw him further from his heart's longing. In that dungeon, a vow sprung from Richard's heart to never again indulge in intoxicants.
Radhanath Swami's talks on dangers of intoxication are profound. He says people have a great need to be intoxicated. If we are not spiritually intoxicated- a healthy and desirable state where a spiritualist constantly remembers God- we will be intoxicated materially. He analyzes how different classes of people become intoxicated by different methods. Those who are inclined toward the mode of ignorance become intoxicated with drugs, opium, cocaine and a host of other chemicals and liquor. Radhanath Swami says then there are others who look for intoxication of success. "There are people intoxicated with false pride, and false ego, and they are so deranged they just can't see the world as it is. People become intoxicated by pride, they become intoxicated by lust, and they become intoxicated with greed; that's what gambling is about" reveals Radhanath Swami.
Radhanath Swami once spoke about a person he knew who lost 250 thousand dollars in a race track in one day. "If you think of it logically it's really crazy that you work so hard for your money and then you are thinking that I am going to invest it all with faith that this horse will run fast", says Radhanath Swami as he exposes our foolishness, "Why not put your faith in GOD instead of horses." Radhanath Swami also believes that even people in business can get intoxicated with the greed and the pursuit of money, especially when money starts coming in.
Radhanath Swami speaks very fondly about Lord Chaitanya Mahaprabhu, the apostle of Love of God who appeared five hundred years ago in Bengal, India. Lord Chaitanya's associates were intoxicated by chanting the nectarine Holy Names of God. Lord Chaitanya's principal associate was Lord Nityananda who in his state of spiritual intoxication approached two drunkards and dacoits, Jagai and Madhai. The duo tried to attack Nityananda, but by his compassion, Lord Nityananda transformed their hearts and they gave up their sinful ways. Soon they were chanting and dancing singing the names of God and now experienced an intoxication of a different kind. Radhanath Swami excitedly narrates this story from the historical book 'Sri Chaitanya Charitamrita'. Each time he speaks this story, it appears Radhanath Swami is speaking this for the first time, and the way he narrates the story also convinces the hearer that Radhanath Swami is himself intoxicated by love of God.
Related Posts:
---
77 Comments
---