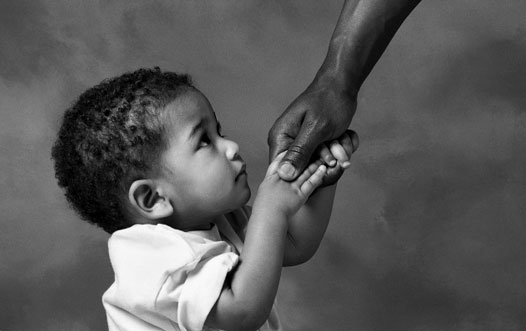 While travelling through the Iranian deserts, Richard (now Radhanath Swami) was filled with concern for his parents. He realized that both of them had sacrificed everything for the welfare of Richard and his two brothers. Richard's mother taught the principles of gratitude. Richard's father worked hard to protect his family from poverty. His father promised him that he would always be there for Richard as long as he was alive.  The parents offered unconditional love to Richard and his brothers. He hated to break their hearts but had to now tell them about his spiritual quest and travel plans to India. Richard's search for God had become the only thing he was living for and he knew if he neglected this call, his life would be a hollow shell. He wrote a letter to them from Iran.
Radhanath Swami has always expressed profuse gratitude to his parents and confesses he tested them beyond their farthest expectations. Some years ago in a public programme, Radhanath Swami's parents were guests of honor and they expressed great joy and pride to see their son being an instrument of love and compassion; they were proud that he was adding meaning and value to the lives of thousands all over the world.
Radhanath Swami has encouraged his married disciples to be exemplary in their services as parents. He insists that the family life has to be centered on God and the children presented with a happy atmosphere. "Whether we live in a beautiful house or a shack, this is not important. What is important is the atmosphere in that place" says Radhanath Swami. "If in that atmosphere the family is inspired to worship and love God, receive God, then it is perfect."
Just as Radhanath Swami got wonderful parents, he works hard to see that the parents in the communities that he has established live by the highest standards. "Their primary responsibility is to their children," says Radhanath Swami, "Children are like wet cement. Whatever falls on them makes an everlasting impression" Therefore it is imperative that we provide the best possible love and care for the children. Radhanath Swami has trained his students to provide spiritual nourishment to children that will leave deep positive impression in their tender hearts.
Radhanath Swami's mother was an embodiment of selflessness. She always emphasized the virtue of gratitude and taught Richard that happiness comes not from a material thing but from the love with which it is given. I was amazed to recently discover that the spiritual principles that Radhanath Swami has been practicing since childhood has been confirmed to be true even by medical science. In his new book 'Thanks', Dr. Robert Emmons studies and connects gratitude to happiness. His studies reveal that people who were in a condition of gratitude felt 25% happier than others.
Radhanath Swami says gratitude is a matter of choice- it's choosing to focus on the good things instead of the bad. In fact he implores us to take gratitude a step further- you can focus on the bad things too and realize the reasons you have to be grateful for them.
Related Posts:
---
---
57 Comments
---