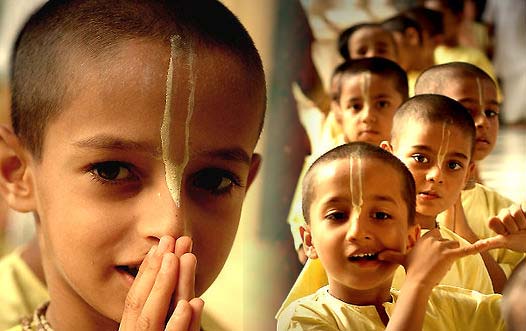 Everyone in Bon Maharaj's ashram where Richard (now Radhanath Swami) was staying complained about his long, unkempt hair. Bon Maharaj requested him to shave his head like the other ashramites. Richard pleaded that for him shaving the head meant surrendering to a mentor, and therefore until he feels strongly about surrendering to a guru, he wouldn't shave. Then Maharaj suggested that he at least cut it shorter as now the hair hung halfway to his waist, and his mane was quite matted. Richard agreed but the hair was so thick that no scissor could penetrate the hair. Finally they called for a gardener who bought loppers used for cutting bushes. The four men- gardener, barber and their two assistants- strained and groaned as they pushed the cutter from both directions. Finally after great struggle the two blades of the bush cutter snapped together and the project was complete. Asim laughed all the while so hard that tears streamed down his cheeks.
Reading Radhanath Swami's hair cutting experience, I too laughed but soon realized the seriousness of the event. Radhanath Swami's long hair had once represented his revolt against war, prejudices and the superficialities of the society. Now he allowed that hair to be cut.
In Indian culture hair cutting is a significant event for many religious people. One of the most popular temples in India is the temple of Tirupati, Lord Vishnu, where every day thousands of pilgrims, including women and children, tonsure their head as a mark of auspiciousness and as an offering for the lord. The daily amount of hair collected is over a ton. The hair thus gathered is sold by the temple organization a few times a year by public auction to international buyers for use as hair extensions and in cosmetics, bringing over $6 million to the temple's treasury.
The objective behind shaving one's head for the Lord is to demonstrate that the devotee completely surrenders his/her ego at the feet of the Lord. Also many make a wish to the Lord to fulfil, and in exchange, as a price, shave the head. Also many Hindus shave in case of death of their parents. Even young boys and girls before they reach the age of four are shaved completely in a special ceremony. By shaving the head, it is said the child confronts his or her ego. This teaches humbleness and devotion. Also children with shaved heads are seen as innocent and holy, and are treated with great respect.
In India while visiting holy places, the first ritual to be observed by most pilgrims is shaving the head. Hair is considered the symbol of vanity, and in order to receive the full benefits of a pilgrimage to a holy place, one must first give up self-love and focus on God.  Thus, the pilgrims believe that the hair should be shaven from the head in a gesture of surrender and humility.
I once heard one of Radhanath Swami's students explain that hair cutting is not absolutely essential. What is more important is to remember God and be prayerful. External rituals are important if they increase our favourable remembrance of God, otherwise they are a distraction. Radhanath Swami beautifully exposes the false humility that can creep in by such external show of shaving. "One can be proud of his humility too", says Radhanath Swami, "by thinking I am more humble than others. This is subtle pride and a distraction."
Radhanath Swami is always clean shaven and looks effulgent and holy. I find many of his young celibate students who also shave regularly, radiating spiritual energy and look happy. I am sure there's more to it than mere shaving the head- they offer their heart in love to God.
Related Posts:
---
---
89 Comments
---