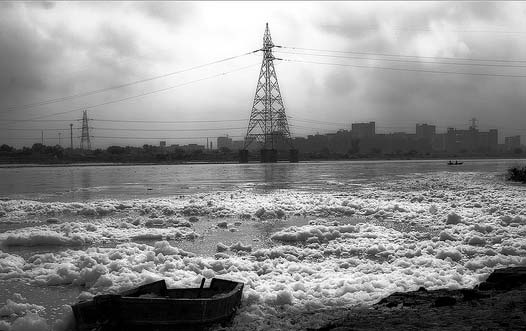 At the famous Kumbh Mela site, Richard (now Radhanath Swami) sat on the bank of river Yamuna and gazed at the sky.  Right then he saw a hawk dive into the waters and catch a fish. It all happened so fast and Richard reflected on how we are like that unsuspecting fish. We carry on with our lives unaware that any moment the hawk of fate may shake us from our situation and impose on us suffering, death and tragedies. Richard felt the lesson to learn is to go deeper in spiritual life. If the fish had been swimming deeper, the hawk wouldn't have probably been able to catch him. Similarly if we are absorbed in our connection to God, we'll be able to deal with sudden calamities with sobriety and a stable mind.
Radhanath Swami once gave the example of a boat in the ocean. A boat may be in the water but it cannot allow the water to enter the boat. Similarly we have to be in the ocean of this world but can't allow the water like situations and problems of this world to affect us. Like the good boat we have to be in the world but not of the world. We can do that if our consciousness is fixed at the Lord's holy names and form.
Radhanath Swami says we have to go deeper in our spiritual lives by connecting to God in the innermost chambers of our heart. He compares the heart to a palace with many rooms. In the centre of this palace of the heart there are private chambers. It is in these regions of the heart- the deep internal recesses- we keep our private life with separate desires. Our challenge therefore as spiritualists is to allow God to enter these chambers or give these chambers to God and allow him to access. Unfortunately for most of us these private chambers are locked and God can't enter our innermost areas of the heart. Going deep in spiritual life essentially means opening this part of the heart for God. This is the toughest internal fight in our lives and if we can do that we enter a deep relationship with God.
Our position in this world is flickering like the fish in the water. It becomes all the more fragile because of our preoccupation with activities related to this body and material world. Radhanath Swami recommends that once we are absorbed in rendering services for God, we don't have any time left for gratifying our senses. Therefore we have to be absorbed in practises of Bhakti yoga and give our mind no time for material pleasures. This is the formula recommended by Radhanath Swami for helping us be absorbed in spiritual life. The reason why we need to be absorbed in spiritual activities is our life is dependent on different swinging moods of our minds. Therefore we have to carefully observe the non-spiritual proposals of our mind and consciously choose 'no' as the answer to the distractions offered by it. This requires determination and also a higher taste by which we can easily say no to negative proposals of the mind. The higher taste comes from absorption in acts of spiritual services like chanting of God's names, hearing about spiritual subject matters and rendering various kinds of services
Related Posts:
---
---
54 Comments
---