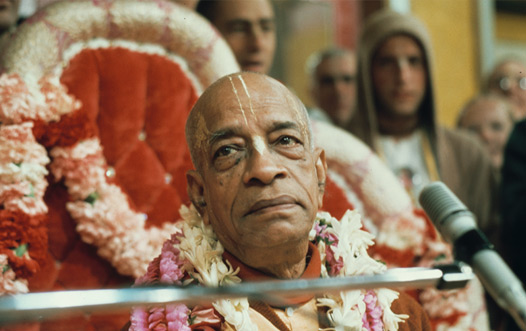 Richard (now Radhanath Swami) was glad to meet Shyamsundar, the devotee who had fed him spiritual food at the Cosmos in Amsterdam, and had taken interest in his well-being in Bombay. Shyamsundar happily described about his spiritual master, Srila Prabhupada, to Richard. He explained that Srila Prabhupada led the most incredible kirtan for over two hours at the Avlon Ballroom in Haight-Ashbury, San Francisco. Richard just couldn't imagine an elderly saint from Vrindavan living in the world capital of Hippie culture, and was amazed to see Srila Prabhupada transform hippies into 'happies'. Richard also learnt that Srila Prabhupada touched the hearts of the Beatles and especially of George Harrison who became close friends with Srila Prabhupada and his disciples.
Shyamsundar also narrated to Richard (now Radhanath Swami) about Srila Prabhupada's visit to Russia, which was then under the Iron curtain. With his charm, humor and precise logic he taught Anatoly, a Russian boy about Krishna Consciousness. Richard was wonderstruck to hear that in the height of the Cold War, Srila Prabhupada was in Moscow teaching the path of Bhakti-yoga to a Russian. Srila Prabhupada had also felt that in India religion was waning and hence brought his Western disciples to India to show the Indians the glory of their own culture. Srila Prabhupada often said that with India's philosophy and America's wealth, the world can really prosper.
Radhanath Swami recollects that with all these achievements what touched his heart the most was the humility of Srila Prabhupada. When one guest asked him if he was the guru of the world, Srila Prabhupada meekly bowed his head and said, "I am everybody's servant. That's all." Radhanath Swami recalled the humility of Ghanshyam and saw that externally Srila Prabhupada was different from Ghanshyam, yet both had humility. Besides, this humility empowered Srila Prabhupada with unlimited confidence and determination to spread the teachings of spiritual wisdom.
Radhanath Swami once gave a class on Ghanshyam at Vrindavan, at the same place where Ghanshyam worshipped his deities Radha Gopijana Vallabha. After glorifying Ghanshyam, Radhanath Swami then spoke how he found the same traits in Srila Prabhupada. No sooner had he begun speaking about Srila Prabhupada, Radhanath Swami choked with emotion and cried tears of gratitude to both these special devotees of Krishna who had most deeply touched his heart.
Humility has been the most important emphasis of Radhanath Swami in his writings, teachings, and counseling over the last forty years. He says, "To protect a community from outside attacks, we may require intelligence but to nourish it from within, we need humility." His reasoning is humility attracts God and therefore we need to be humble. Radhanath Swami gives the logic from Physics, "Like poles repel and opposite poles attract. God is all great and if we think we are also great, we go away from God. But if we consider ourselves fallen, and God being the opposite, Great, immediately there is an attraction between the two."
Radhanath Swami has often explained the secret of Srila Prabhupada's success. At the age of seventy Srila Prabhupada had gone to the west and successfully presented the message of pure Bhakti-yoga with pure conviction that he was the servant of all. Radhanath Swami reveals a principle of success in spiritual life, "Humility is a divine virtue. A person who could do great things and maintain humility of the heart, charity of the heart, goodness of the heart is a person who could actually make a difference in people's lives in a very positive way."
Related Posts:
---
---
49 Comments
---