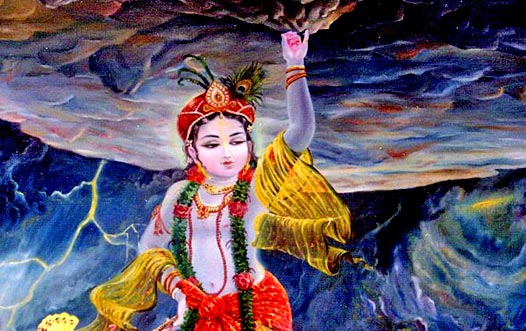 Richard (now Radhanath Swami) and Asim Krishna met a mystical lover of Krishna, Sripad Baba. Sripad Baba was a homeless mendicant and mysteriously wandered in Vrindavan in a God-intoxicated trance. Although Sripad Baba was revered by people in Vrindavan, no one knew his age or his residence. One night Richard saw him standing shoulder high in the frigid waters of the river offering prayers until sunrise. Sripad Baba seemed to know every hill, rock, or grain of dust in all of Vrindavan. In his association, Radhanath Swami began to feel he had no trace of love for Krishna in his own heart. Radhanath Swami once had an overwhelming experience when he longed for the love of God, cried and begged for that love. He suddenly felt everything was irrelevant in the absence of love for God.
Sripad Baba revealed to Radhanath Swami an interesting aspect of Krishna; God is universally worshipped as a great king, but in Vrindavan He is loved as a friend, a child or as a lover. Radhanath Swami often says that God is not simply great but also sweet, and Sripad Baba revealed to him Krishna as the essence of all beauty and sweetness.
Hearing Radhanath Swami's talks I get a feeling that Krishna as a God is a mesmerizing blend of greatness and sweetness. All religions declare that God is great and Radhanath Swami speaks from the eleventh chapter of Bhagavad Gita and explains how this greatness can be seen even in Krishna. However there is another aspect to Krishna, says Radhanath Swami, and that is the sweetness of his attraction and love. I once heard Radhanath Swami describe Krishna's stealing of butter from the house of the women in Vrindavan. A thought came across my mind, "Why should God steal and perform mischief?" As if answering my doubt, Radhanath Swami explained, "Krishna as God is self-satisfied as everything belongs to Him. However he likes to reciprocate with the love of His devotees, for Krishna is bound by that love."
In India Krishna festivals are very popular with millions congregating to hear week long discourses on Krishna's activities, especially about his childhood play and frolic in Vrindavan. These discourses are given by popular professional speakers, with accompanying kirtan, musical performances. Reading about Krishna fills the hearts of his devotees with incalculable sweetness. Interestingly I have observed Radhanath Swami and many other speakers about Lord Krishna repeat the stories with much excitement and enthusiasm as if they were narrating it for the first time. I understand that repeated speaking and hearing these stories simply increases the joy of the devotees.
Krishna theology is refreshingly different from the stereotyped understanding of God as a great Lord who metes out justice and awards the faithful on the Day of Judgment. Krishna is the same God as understood in all other theistic traditions, but the sweetness aspect of His personality helps devotees relish the path of Bhakti yoga.
The German philosopher Friedrich Nietzche said, "I would believe in a God who could dance." Krishna is known as an expert dancer, natabara, who dances in rasa lila, the dance of divine love, in the pastures of Vrindavan. Radhanath Swami explains that we can also experience the sweetness of God by sincerely chanting the Holy names of God. The Holy names are also great and sweet, says Radhanath Swami. They are great because they can destroy the negativities from the heart and at the same time the sweetness of the Holy names can also be experienced by spiritualists who chant with great feeling of love.
Related Posts:
---
---
91 Comments
---