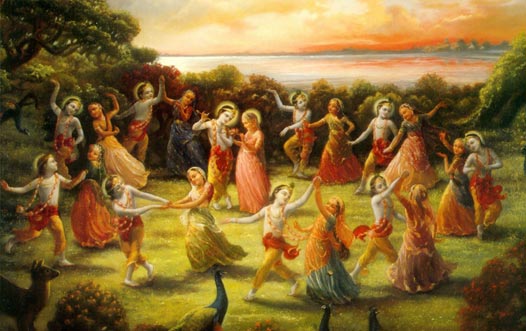 Richard (now Radhanath Swami) discovered that the religion of residents of Vrindavan was not reserved for Sundays or holidays; they had spontaneous, loving attraction to God. And this love was intrinsic to every aspect of their lives. It was autumn season and Radhanath Swami remembers watching in fascination the preparation for the festival of Rasa dance. Radhanath Swami learnt that Rasa dance is one of the deepest revelations of spiritual love. Bon Maharaj explained to him the meaning of Rasa dance as a representation of most perfect intimacy between the soul and God.
On the night of Rasa dance, the whole of Vrindavan was abuzz with excitement. It was on this night that Krishna danced with the cowherd maidens of Vrindavan, known as gopis. Bon Maharaj taught Richard (now Radhanath Swami) that this dance was not like any worldly dance wherein people try to satisfy their material senses. While the gopis live as cowherd maids, they embody the highest expression of the soul's love for God, for pleasing the Lord is their exclusive aspiration. This dance represents the most perfect intimacy between the soul and God, free of any tinge of selfish desire but charged with the fullest bliss. On this night, when Krishna called them from their homes with the sweet song of His flute, the gopis forsook everything they had and risked dangers and social rejection all to satisfy the Lord. When they reached Krishna, the Supreme Lord, He admitted that in the span of creation He had no power to sufficiently repay the gopis for their pure devotion. But in reciprocation He expanded Himself to dance simultaneously with each gopi in their eternal spiritual bodies, for a night of endless joy.
It was during this period that Radhanath Swami experienced Vrindavan affecting his heart deeply. In the sweetness of those moments, he thought how unconditional spiritual love for God was a higher experience than attaining mystic powers wherein one could perform supernatural feats or even liberation wherein one was freed of all sufferings and anxieties. Radhanath Swami reveals, "In spiritual love, like that of the gopis, a devotee fully gives his or herself for the pleasure of the Lord and can fully relish the intimacy of God's love."
To drive the point of selfless love of gopis that a devotee seeks to cultivate, Radhanath Swami often narrates a story from the scriptures. Once, Narada Muni, a great travelling devotee of Lord Krishna, informed different devotees that Krishna is having a headache. Some dismissed it as untrue. Others who loved Krishna wanted to help and asked what could be the cure for this headache. Narada said the dust from the feet of His devotees would cure Krishna's headache. On hearing this, all devotees were shocked and refrained from giving dust; it's an offense to give dust from the feet on Lord's head as it's akin to putting one's own feet on God's head. While all refused, gopis immediately gave the dust. Narada asked them if they weren't afraid of this offense and severe reactions that awaits them for this act. They spontaneously replied they didn't mind any suffering or adverse reaction for giving their dust to Krishna if in exchange Krishna can experience even a moment's relief. Their desire to please Krishna is so great that they didn't mind suffering in exchange. Radhanath Swami narrates this story to illustrate not only the gopis' love for Krishna but also the aspiration that all of us should have while executing spiritual practises. We must have a desire to serve God rather than accept gifts from him.
Radhanath Swami implores the seekers of enlightenment not to get fooled by materialistic ambitions when approaching God. He says a devotee never has a business relationship with God. "It's a relationship of giving, and not taking", says Radhanath Swami. His words are sobering to me as I have grown up only asking God for benedictions. Even my services are motivated with a desire to get something in return. Radhanath Swami educates me that yes we need to ask God for gifts- but the gifts of opportunities for loving service.
Related Posts:
---
---
95 Comments
---