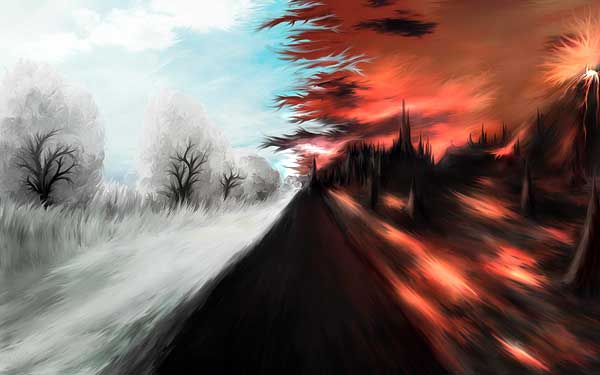 Richard met a thirteen year old 'incarnation' of Krishna who dressed with a crown and a peacock feather, played a flute, and stood in the pose of Krishna. But he looked very different from the painting of Krishna Richard had purchased in Delhi. Although Richard believed this incarnation could be an accomplished yogi, he had no inclination to accept him as Krishna. Richard thought God is a serious subject, and cannot be taken lightly.
On another day a man grabbed Richard and stuck a metal stick on his ear, and gouged for some time. Then he took the stick out and showed Richard a big lump of ear wax; he had cleaned one ear of Richard. To clean the other he demanded a rupee. Since Richard didn't have any money, the man left him with one dirty ear. Richard's hearing was now like an unbalanced stereo system; he could hear clearly only in one ear.  Richard learnt two lessons from this incident:
The dirty wax of egotism accumulated in the heart prevents us from clearly hearing the Lord's voice within. A guru, with the stick of knowledge, cleans our hearts. It's really ugly to see what may come out, but by following patiently, we keep cleaning. Another lesson I took from this experience was sometimes the Lord gives us a free sample of religious experience, but for more, we must pay a price with the currency of sincere dedication to the process of cleansing.
This realization of Richard answered a question I had for a long time; why is it that for some practitioners, after the initial excitement in spiritual life, the practice becomes boring and a drag. The Lord gives a free sample, and expects us to now become sincere. Radhanath Swami explains that sincerity means practicing spiritual life even if we do not get regular experiences or visions of God. A practitioner's faith will be tested by God and a prolonged period of dryness is an opportunity for us to grow in our spiritual lives. Spiritual growth requires us to break the ritualistic barrier and go deeper in our practices.
Radhanath Swami reveals that to go deeper we need to know that spiritual life is not a mechanical set of rituals; rather it's a moment-to-moment remembrance of God. If we can constantly remember God then the spiritual experience will continue with time. In fact the realizations will grow corresponding to our prayerful remembrance of God. God also puts his devotees through different tests. At such times, although externally we may be facing difficulties, our turning to God gives us a spiritual experience. Life then becomes worth living, for a seeker experiences internal union with God. Radhanath Swami offers studying scriptural prayers as an advice for those seeking divine experiences.
The scriptures are filled with the prayers of great souls. A devotee repeats these prayers, not as a stereotype ritual but with a desire to understand the content and feelings of the pure devotees offering these prayers. With an enthusiasm to access the Lord's mercy, a seeker of spiritual experience invests his feelings into these prayers, and simultaneously offers his own personal prayers to God. A contemplative study of the scriptures and prayerful connection to God is a small price a devotee pays, in exchange of which the lord fills his heart with divine happiness.
Related Posts:
---
---
76 Comments
---