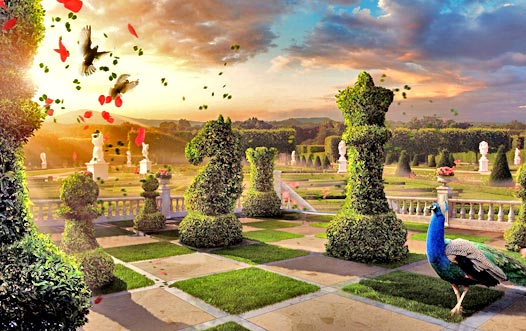 Richard (now Radhanath Swami) had no idea about India but was determined to go there. He only experienced negativity from everyone about his journey to India. They said crossing over to Turkey was dangerous. Besides, Turkey was raging with Cholera and the black market and ghettos of Istanbul were deadly. He met Jeff and Ramsey who were enthusiastic to go to India. Despite being discouraged by all others, the trio was determined to cross over. Even the Greek immigration officials dissuaded; Richard and his friends were however fixed to go. The travel through the 'no man's land' was an ordeal. Richard silently prayed and survived the journey to Istanbul.
What inspired me on reading this section is Radhanath Swami had to face demoralizing and unfavorable situations; the atmosphere at Athens and later the journey to Turkey was surcharged with negativity, yet he was positive and unfazed in his determination.
Radhanath Swami once told a friend and me that the material world is surcharged with negativity. To practice spiritual life we have to be positive in all circumstances. I asked for clarification; 'positive thinking' is the buzz word in motivational talks and how can a spiritualist be a positive thinker? Radhanath Swami said positivity means being constantly grateful, optimistic and appreciative of God's mercy. However being positive doesn't mean ignoring the harsh reality of this world. "We have to accept certain truthful situations, although they may be bitter", said Radhanath Swami, "but the challenge is to remain positive in all circumstances." Therefore when I read Radhanath Swami's determined effort to go to a country about which he knew little, I wasn't surprised; he is a man of immense positivity. This positivity was once expressed by him, "Happiness is not determined by an event but how we interpret that event." As Radhanath Swami himself demonstrated during this period, in every situation there is an opportunity to make spiritual advancement or go further away from God.
We have seen Radhanath Swami expertly convert potentially negative situations to festive celebrations. When Radhanath Swami began serving at downtown Mumbai in the late 1980's, the atmosphere was unfriendly; an unclean temple premise, politicking amongst the resident monks, and rumor mongering was common. Radhanath Swami began with long sessions of kirtans, chanting of God's names. He organized and oversaw celebration of festivals where the members of the community came together to cook, chant and dance, discuss spiritual subjects through entertaining discourses. He also led the ashram members and the community devotees to tours to sacred spiritual places in India. This kept the members spiritually happy and inspired to take the initiative to bring about positive changes.
Radhanath Swami's secret has been to flood a person's consciousness with love and kindness. When positive thoughts and vibrations repeatedly enter the mind, a person is inspired and happy. That speaks on why Radhanath Swami's students are always cheerful and enthusiastic in their spiritual practices. Radhanath Swami's ever encouraging and super positive thoughts remind me of a poem I read some time ago:
Watch your thoughts – they become words;
Watch your words – they become actions
Watch your actions – they become habits;
Watch your habits – they become character;
Watch your character – it becomes your culture
Related Posts:
---
---
49 Comments
---