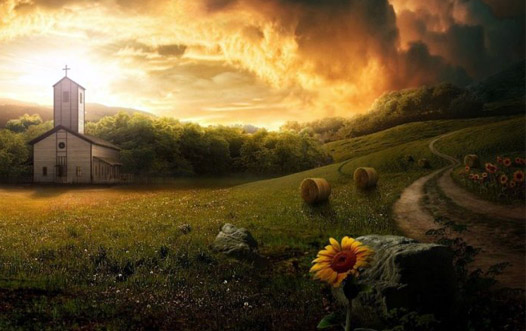 After a few adventures at Athens, Gary and Richard (now Radhanath Swami) hitchhiked to the Isle of Crete. This was a perfect setting for fasting, meditation and prayer; from sunrise to sunset both of them prayed and meditated. Richard's thirst for enlightenment intensified like never before. After weeks of contemplation and prayer, Richard's earlier spark of spiritual craving had now kindled to a blazing fire. He soon realized he was at the crossroads. One road would allow him to retain his identity as an American boy who needs to go to college and get his degree. The other road was more challenging- he needed to abandon his old identities and allow God to reveal to him his path. If he chose this path, he knew everything would change for him. Richard felt a force was dragging him to leave everything else behind and find a whole new life, with a whole new identity. One evening he heard the voice of God in his heart that commanded him to go to India. Richard knew for sure that this was the Lord answering his prayers for direction.
The challenge Radhanath Swami faced then was to go beyond his limited identity of being an American boy, confined to his own narrow view of life. To grow in our spiritual life, Radhanath Swami says one needs to go beyond the bodily identities and accept our identity as separate from the body. We are spirit souls, a divine part and parcel of God that is beyond the limited national or sectarian identifications. To live a life with the consciousness, 'I am not this material body; I am pure spirit soul' directs one to cultivate divine qualities as
humility, contentment, tolerance, and patience. Cultivation of such qualities brings peace and happiness now, and at the same time leads one to the world of eternal joy. On the other hand the qualities normally found in those leading a life of bodily consciousness are selfishness, intolerance, craving for flickering pleasures, arrogance, and false pride. These negative forces take one away from harmony with nature and God.
Radhanath Swami reveals that the understanding of the soul changes one's outlook and attitudes, and helps one act correctly while facing different situations in life. The attitude transformation and spiritual upliftment that one gains by the knowledge of the soul proves that there is potentiality of goodness in man, and it can be awakened by loving service to God and by removing the negativity of the enjoying mentality. The transformation of heart leads to the attitudes of goodwill, cooperation, sympathy, love and serving others with humility. When one understands the knowledge of the self, then one gains self-awareness that can lead to self-management. We can observe ourselves, our chemistry or nature, our right and wrong behavior, our strengths and weaknesses and where we need to improve.
Radhanath Swami reveals the advantage of being conscious of our identity as the soul, rather than the temporary body. "When people are conscious of the soul, they are aware that the material body is temporary, and that the material world is a temporary place of suffering designed by God to reform and purify us and prepare us to return to the eternal Kingdom of God." Thus human beings live a life socially, politically, culturally and economically centred on God. This brings purity, peace, and prosperity, health, wealth and happiness, all aimed at pleasing the Supreme Lord.
On hearing Radhanath Swami's analysis of the soul, I cannot help contrasting this with the plight of modern man. Today most people are absorbed in bodily consciousness and believe in 'survival of the fittest'. They do not worry if they harm others in their rat race to 'eat, drink and be merry'. Modern man imagines himself to be no more than a bunch of chemicals or atoms colliding with one another. Such a blind, superficial material outlook to life renders life meaningless, making the world purposeless, and is neither useful to the individual nor beneficial to others in the world. Radhanath Swami says that for lasting happiness we need to practise spiritual life and true spiritual life centres on the awareness of the soul and its loving relation with God and all fellow beings.
Related Posts:
---
---
42 Comments
---