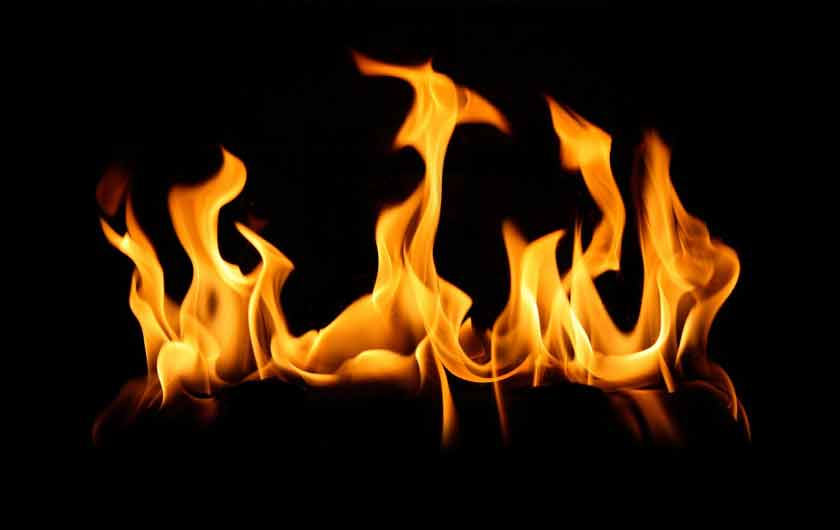 At Varanasi which is considered by millions of Hindus to be the holiest of all cities, Richard was affected by people mourning in a funeral procession. He later decided to sit on the banks of Manikarnika burning ghat, a place where dead bodies are burnt. He sat from sunrise to sunset contemplating on the mystery of death and prayed to get a deeper insight into this inevitable reality of our lives.
Richard observed that the dead body was placed on a pyre of wooden logs, and the closest relative of the deceased touched a flaming torch to the pyre. Richard carefully observed the hair sizzling into nothingness. The flesh shriveled away, organs melted and bones crumbled. Gradually the entire body was devoured by the flames and only a pile of ashes remained that were then carefully swept into the current of Mother Ganges. He felt the sweet song of Mother Ganges was inviting him to an eternal reality, beyond this world of death.
Realizing the inevitability of death sobers us up. It's simply a matter of time before all the wealth and fame we seek is washed away by the force of time. The body goes through six stages- creation, growth, maintenance, producing offspring, dwindling and finally death. Still we hope to live on forever; a glimmer of eternity is felt somewhere deep within and a life devoid of decadence is desired. This hope is natural because the real 'I' or the 'soul' doesn't die with the end of this body.
Radhanath Swami often repeats his guru's lucid thinking and logical presentation on the subject of soul. Just as a vehicle needs a driver to maneuver the machine, similarly within the body resides a 'driver', a spiritual spark animating the bodily automobile with consciousness. Symptoms of walking, talking, sitting, and feeling reveal the working of this spiritual energy, in an otherwise lifeless lump of flesh. When questioned 'who are you?' we often introduce ourselves with a name or by identifying with a religious sect, family or Nation. However if we change our name, faith or citizenship do we actually become a different person? No! We remain the same person as we continue to think, feel and will with changing designations of the body. We can easily point to our hand, legs, face or even our own body. But if 'I' owns 'my body', a logical question arises, 'who really am I?' Just as 'my watch' or 'my book' implies my existence separate from the watch or the book, likewise 'my body' implies my eternal state of existence separate from the transient body.
Richard got a realization of the soul watching and meditating on the burning dead bodies:
"It's not the body that people love, but the soul. The body is a temporary vehicle. Without the soul, the body is like a car without a driver. I see through my eyes, smell through my nose, taste through my tongue, hear through my ears, feel through my skin, think through my brain, and love through my heart. But who am I? Who is the witness, enjoyer, and sufferer that activates my body?"
Radhanath Swami explains that we are presently attracted by the layer of bodily covering. This superficial attraction to the body is called maya or illusion. Spiritual reality is to go beyond the body and seek a relationship at a deeper level. "Relations of the soul, established in relation with the Supreme Soul, are factual relations", reveals Radhanath Swami, "the skin relation is the cause of material bondage, but the relation of the soul is the cause of freedom. This relation of the soul to the soul can be established by the medium of our relation with God."
A spiritualist ignores neither his body nor the bodies of his loved ones. He simply practices and encourages others to render devotion to God, while doing the needful for the body; the body is after all a vehicle to help us go to God.  Radhanath Swami aptly puts it, "If you really love a person, will you not care for his or her soul? And if you love the soul, would you ignore the body? "
Related Posts:
---
---
137 Comments
---