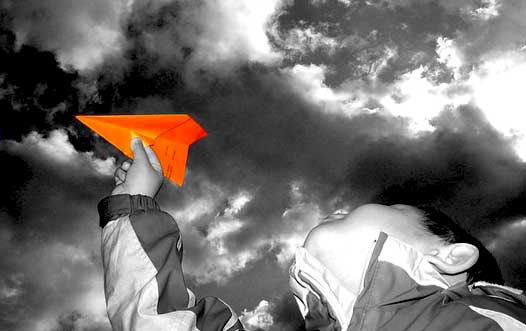 On their very first night at Luxembourg, Frank was robbed of all his money. Richard (now Radhanath Swami) and Gary were determined to stay on although they had little money. Richard had just twenty dollars of his own; he however had faith in the love and friendship of Gary and was happy to travel with no money. As they pondered on the mysteries that awaited them, Richard realized he had almost nothing but strangely he felt free and happy sitting on the bank of a canal or a river.
Radhanath Swami says it's a strange world; "people lie, cry and die to make it big and earn money in this world and yet they are perpetually dissatisfied. On the other hand, a devotee of the Supreme Lord, even if he is poverty stricken, is happy and contented, for he carries the priceless wealth of devotion to Lord."
Srimad Bhagavatam, the spiritual epic of India elaborates on the freedom that comes with a voluntary life of poverty. The Srimad Bhagavatam states, "When there are ample earthly flats to lie on, what is the necessity of cots and beds? When one can use his own arms, what is the necessity of a pillow? When one can use the palms of his hands, what is the necessity of varieties of utensils? When there is ample covering, or the skins of trees, what is the necessity of clothing?, Are there no torn clothes lying on the common road? Do the trees, which exist for maintaining others, no longer give alms in charity? Do the rivers, being dried up, no longer supply water to the thirsty? Are the caves of the mountains now closed, or, above all, does the Almighty Lord not protect the fully surrendered souls? Why then do the learned sages go to flatter those who are intoxicated by hard-earned wealth?" (Srimad Bhagavatam 2.2.4)
Is Srimad Bhagavatam throttling the human drive towards economic progress and instead encouraging a life of denial? "No", says Radhanath Swami, "the scriptures do not recommend that we live on the street like the animals. However as compared to the animals humans are endowed with a reserve energy which should be used for self-realization." Besides, Radhanath Swami also says that one who doesn't seek to accumulate money but instead lives on whatever charity comes his way should lead a responsible life. He should not be a parasite to the society; rather he should provide spiritual training to the masses.
Radhanath Swami also says when a person lives in poverty searching after God, he should also be of the firm faith that God will take care of him. Quoting his own guru, Radhanath Swami highlights the role of faith in a spiritualist's life, "When a human being relinquishes money and lives like a mendicant, he must be of firm faith and conviction that the Supreme Lord is the maintainer of all living beings everywhere in the universe. Why, then, would He neglect the maintenance of a surrendered soul who is cent percent engaged in the service of the Lord? A common master looks to the necessities of his servant, so how much more would the all-powerful, all-opulent Supreme Lord look after the necessities of life for a fully surrendered soul."
As a young seeker, Radhanath Swami too depended on the grace of Lord who took care of him as he wandered through various cities and countries of this world.  He had no money but the burning desire to know God kept him going. It's a pity that for most people a spiritual goal is utopian whereas their monetary driven passions are reality. Radhanath Swami brilliantly exposes the futile endeavors of such misguided people, "The world is busy making plans to make life comfortable and secure although we can clearly see that life in this world is neither comfortable nor secure. Nor will we at any point of time be able to make life free from miseries. Instead intelligent people seek to make their spiritual foundation strong."
Related Posts:
---
---
80 Comments
---