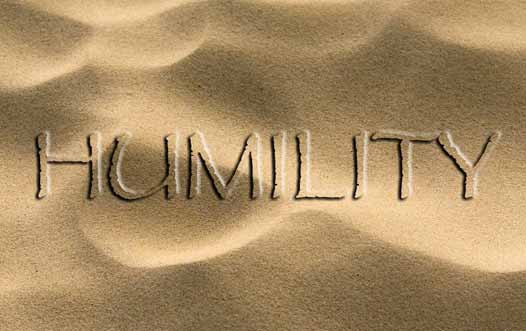 While Richard (now Radhanath Swami) often questioned what real humility was and how it works, he came upon an unforgettable lesson on this subject. Richard found his heart irresistibly drawn towards Ghanshyam, a small thin man in his seventies whose life and soul was to serve Radha and Krishna and their devotees twenty four hours a day. He would offer everything he had to serve Richard, while constantly saying, "I am your obedient servant." Ghanshyam insisted on serving his rotis to Richard, while himself starving. With palms folded in prayer he begged that the only thing he possessed was his service to all and wished he isn't deprived of this chance. He gave away his blanket so that Richard could sleep comfortably in the winter of Vrindavan. He loved to serve everyone he met and Radhanath Swami writes that his heart was deeply affected by this devotee who lived in obscurity. Ghanshyam wasn't a learned scholar, a famous guru or a mystic yogi. But he was a true saint, his humility an expression of his love for God.
Radhanath Swami writes his realization:
"In real humility there is a deeper principle than our sad need to feel superior to others. That higher principle prevents us from being arrogant and condescending toward those we feel are inferior. It protects us from being envious towards those who are more accomplished. When one is humble, one feels grateful and gives credit to the Lord and all those who have ever offered help. With a humble heart one can easily admit mistakes and open one's heart to learn. Becoming humble is not the act of killing the ego but of liberating the real ego, which is eternally vibrant with love for God and others."
Radhanath Swami notes that in the company of people like Ghanshyam he discovered that true humility was not a negative obsession that lead to a sense of inferiority or depression. On the contrary humility, he learnt connects us to an inexhaustible power beyond our own, the power of grace. Radhanath Swami discovered a profound mystery in the association of Ghanshayam Baba; to the degree one possesses humility, he feels himself very small, a part of God and the servant of all.
Radhanath Swami too feels small and lowly; he genuinely wishes to remain in the background and shies away from all fame and honour. After reading the 'Journey Home' I was excited to meet Radhanath Swami and take his autograph. I went to the temple where he stayed, with great excitement and hope. What I witnessed has left an indelible impression in my heart; even my hard wretched heart has been moved to see the genuine qualities of Radhanath Swami.
In a few days as the professional media launch was all set to happen for the 'Journey Home' I saw Radhanath Swami unassuming and shy. On this particular day two thousand youth of Mumbai had gathered to hear him speak during the monthly youth festival. As extra thousands came that evening in anticipation of hearing Radhanath Swami speak from his book, I managed to sneak behind his room where he was discussing with some of his close friends and students about the evening talk. They all insisted that he speak from the book. He shied away and refused. Finally he relented and said he would speak only if some youth asked him questions indirectly referring to the book. I ran fast to catch my seat in the front row so that I could hear the exciting stories from 'Journey Home' from the mouth of the author himself. As the lecture began, and all waited with bated breath no story came out. Finally one of his students who was compeering the programme announced to the two thousand plus crowd, "Now on behalf of all assembled guests we request Radhanath Swami to share his realizations from 'Journey Home'." As the crowd roared in approval, expectations soared but still Radhanath Swami didn't speak anything from the book. I then remembered Radhanath Swami reluctantly agree that if we asked him questions related to the topics mentioned in the book, he shall speak the stories and realizations. I raised my had and asked a question on Naga Babas. He gave a straight answer and nothing from the book. Then others took a clue from me and questions streamed in on topics ranging from Ganga to Himalayas to Vrindavan and his own guru. As each question was being asked to Radhanath Swami, everyone laughed, knowing fully well that these questions are being hinted at the book. Still Radhanath Swami didn't budge, and replied to all the questions on the merit of the question without referring to his autobiography. The class was of course brilliant but the students felt simultaneously disappointed.
Two hours after the class when most people had returned to their homes, Radhanath Swami came down to the courtyard of the temple and spoke casually to a group of admirers who crowded around him. I was there as he discussed the minute details from the book. Radhanath Swami repeatedly apologized to us, a small group of students that he was sorry he didn't speak from the book. He said he was feeling shy and miserable and didn't know how he could speak about himself. "I wrote this book because I was ordered by my close friend on his deathbed. I couldn't refuse him, but I feel humbled and shy to speak about myself."
Yes, I can agree that Ghanshyam has left a deep impression in Radhanath Swami's heart and influenced his life beyond my tiny imagination.
Related Posts:
---
---
61 Comments
---