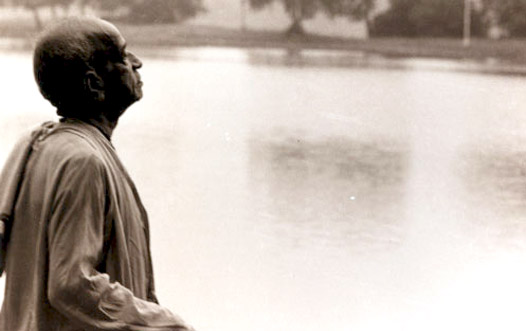 Richard (now Radhanath Swami) melted with joy to see Srila Prabhupada, who was now Vrindavan's ambassador to the world. The hearts of the people of Vrindavan swelled with pride to witness people of races they had never seen before now practising Krishna culture. Srila Prabhupada, all residents of Vrindavan agreed, had performed a miracle.
Radhanath Swami writes about Srila Prabhupada's spiritual journey. He was born in 1896 to a deeply religious family in Calcutta. On his first meeting with his guru Srila Bhaktisiddhanta Saraswati in 1922, the latter had told him to teach the message of Lord Chaitanya Mahaprabhu throughout the world. Srila Prabhupada who was then known as Abhay protested that India is a dependent nation and nobody will listen to a spiritual message. Bhaktisisddhanta Saraswati cited from scriptures, with logic and compassion that the eternal reality is we are not these bodily designations and the situation of dependence was temporary. Today one power is ruling, tomorrow another one will overtake the country. Real welfare work, Srila Bhaktisisddhanta Saraswati said is to help everyone re-establish their eternal relationship with God. That moment in his heart of hearts, Abhay accepted Srila Bhaktisiddhanta Saraswati as his spiritual master, and carried out his order for the rest of his life.
I was reflecting on the wisdom of Srila Bhaktisiddhanta Saraswati and tend to agree about how everything in this world is temporary and what we consider as reality is constantly changing. Therefore we need to focus on the eternal reality-our relationship with God-while doing the needful to address the fleeting problems of this world.
One of the recent problems that has consumed the consciousness of many Indians is the terrorist attacks in Mumbai. Post 26/11 terrorist strikes in Mumbai, one man challenged Radhanath Swami in a class, "What's the relevance of spirituality now, if you can't usher in a political revolution?" Three hundred thousand citizens had gathered at a rally the previous day in Mumbai, close to the centre where Radhanath Swami stayed during this period. They demanded military action against the neighboring country, where the terrorists had been trained. As I wondered what Radhanath Swami will answer, I realized his service is tough; he has to encourage spiritual aspirants to seek strength through spiritual practices, while simultaneously facing the challenge of counseling disturbed minds.
Radhanath Swami with great wisdom and love assured the restless audience that we certainly need to do the needful to protect innocent citizens, and we all stand united to combat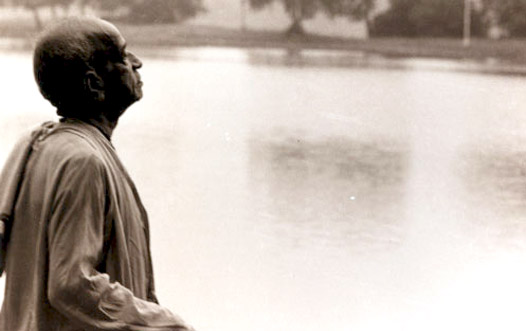 &. At another level he also explained we need to individually transcend problems that seem overwhelming at the present, but are blinding us to the real problems facing all of us, all the time. Terrorism or no terrorism, the ugly reality of death, old age and disease always stares at us, threatening to prolong our sojourn in this world A spiritual practice transforms our consciousness, and helps us remember the Supreme Lord at the time of death. This not only helps us be fearless while confronting tragedies in this material world, but also ensures that after our sojourn in this world, we join the Supreme Lord in His abode, for an eternal life of bliss
Radhanath Swami is pragmatic and assures that we are not to turn a blind's eye to the day-to-day crisis of this world. He explains that a spiritualist does the needful to address different passing problems of this world, but simultaneously works to free himself from the bondage of material suffering. Inspired by Radhanath Swami, Mr. Nilesh Ghosalkar, a trained fighter with the Mumbai Police became one of the heroes during the war against the terrorists. Nilesh visits Radhanath Swami's centre in Mumbai regularly and hears his discourses and enthusiastically participates in kirtans. During the terrorist strikes, he was on the frontline, fighting the terrorists in one of the hotels, and narrowly survived the war. He sought the blessings of devotees and combined his heroic combat with devotion to God. Radhanath Swami explains the need for warrior class in the society whose principal duty is to uphold law and order in the country. Radhanath Swami reasons that if an emergency arises, we are not against violence against the terrorists, just as a surgical operation to remove a tumor from the body is not deemed as violence by the suffering patient.
I am impressed by Radhanath Swami's tremendous balance of spirituality and practical down to earth solutions for facing modern day crisis of this world.
Related Posts:
---
---
48 Comments
---