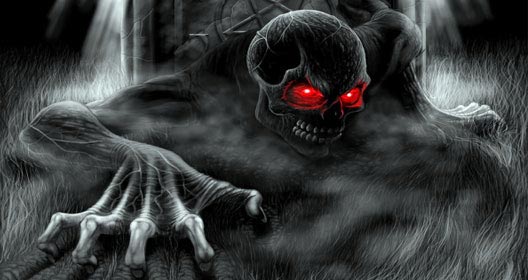 Richard (now Radhanath Swami) met Vasudev, a handsome sadhu in his thirties. Although Vasudev wore immaculate dress, spoke the Queen's English and was gentle and charmed all, Richard felt something strange about him. Vasudev revealed his heart to Richard; he was constantly tormented by black magic and tantric attacks of a powerful leader of a black magic cult. This leader tried to control Vasudev's mind through his spells and with the help of his associates constantly tormented Vasudev and demanded he surrender to the cult leader. Vasudev was constantly running for his life in fear of this evil tantric.
Radhanath Swami recommends that to survive such horrible attacks, a spiritual practitioner has to intensely pray to the Lord for protection.  It's also important that we keep our external surroundings clean and also our mind pure by cultivating positive thoughts of love, and service. Reading spiritual books and associating with people aspiring to lead a pure life gives us the immunity from black magic spells.
Radhanath Swami narrates with great relish the activities of Bhakti Vinod Thakur, a great Vaishnava saint and teacher of the nineteenth century who fought against such evil black magic tantrics.
The British thought him a revolutionary for speaking out against the British rule, so the district governor of Bengal drew up arrest orders. However, nobody dared to act upon these orders, fearing Bisakisena's mystic powers.
In 1873, Mr. Ravenshaw, the district commissioner for Orissa, requested Sri Bhakti Vinod Thakur to bring Bisakisena to justice. Sri Bhakti Vinod Thakur went personally to see Bisakisena. The yogi showed some powers that would normally scare off an ordinary man, and informed Sri Bhakti Vinod Thakur that he knew well who he was, but that since he (Bisakisena) was the Lord, Sri Bhakti Vinod Thakur better not interfere with him. That was enough for Sri Bhakti Vinod Thakur who replied by acknowledging Bisakisena's accomplishments in yoga and tantra and requesting him to come to Puri, where he could receive the blessings of Jagannatha, the famous deity of Krishna there. Bisakisen's haughty reply and argument made Sri Bhakti Vinod Thakur furious and he immediately arrested the mystic and threw him in jail where he was guarded by three dozen constables and seventy two policemen.
The fearless Sri Bhakti Vinod Thakur tried Bisakisena in Puri. The trial lasted 18 days, during which thousands of people whom Bisaksen had control over gathered outside the courtroom, demanding Bisakisena's release. On day six of the trial Sri Bhakti Vinod Thakur's daughter Kadambini became seriously ill and nearly died. Sri Bhakti Vinod Thakur knew it was the power of the tantric yogi at work. He remarked, "Yes, let us all die, but this rascal must be punished." The next day in court the yogi announced he'd shown his power and would show much more. He suggested that Sri Bhakti Vinod Thakur should release him at once or face worse miseries. On the last day of the trial Sri Bhakti Vinod Thakur himself became ill from high fever and suffered exactly as his daughter had. But the determined Sri Bhakti Vinod Thakur pronounced the man guilty and sentenced him to 18 months for political conspiracy. When Bisakisena was being readied for jail, the district medical officer cut off all his hair. Apparently, the yogi drew power from his long hair. He hadn't eaten or drunk during the whole trial, so he fell to the floor like a dead man and had to be taken to jail by stretcher. After three months he was moved to the central jail at Midnapura, where he took poison and died
This is awe inspiring story of a great saint who fought against the dangerous black magic spells on the strength of his devotion and faith in God. Radhanath Swami also teaches us that God's shelter is the only way we can be fearless and protected from all dangers in this material world.
Related Posts:
---
---
58 Comments
---