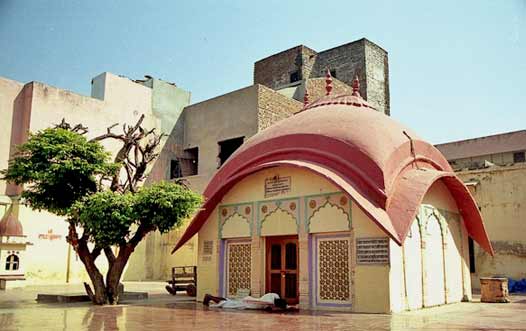 Finally at Vrindavan, in the Samadhi, tomb of a renowned saint named Rupa Goswami, Richard (now Radhanath Swami) underwent an experience which revealed to him that Bhakti-yoga was his path. As he knelt before Rupa Goswami's tomb and prayed silently, he experienced an invisible energy filling his body and mind. Suddenly, Richard knew, with certainty, that bhakti was the path he would give his life to and that Krishna's name would, in time, reveal His love to him. All reservations that had earlier prevented him from committing his whole heart to the path of devotion were now gone. Still emptiness lingered within him for he knew he had to accept a guru to whom he could fully dedicate himself fully. To harmonize one's life in the service of a guru's teaching was the path that enlightened souls had followed since time immemorial. Richard intensely prayed for direction.
My understanding is that nothing in spiritual life comes free. After the soul stirring experience at the cathedral in Florence, Richard (now Radhanath Swami) was tested by Irene. Later Rama Sevaka Swami had showered on him affection and given him a stick as a token of love. Soon he was attacked by wild dogs and the stick came to his rescue. Whenever Radhanath Swami underwent a spiritual experience, he faced a simultaneous challenge. Immediately after the revelation of the path of Bhakti, Radhanath Swami was hounded by an immigration agent. Then a mad dog bit him. The series of life threatening experiences and sufferings Radhanath Swami underwent was enriching his spiritual realizations deeper.
As Richard (now Radhanath Swami) sincerely sought the shelter of a guru, he recalled how Lord Rama had appeared in Rama Sevaka Swami's dream and said of Richard, "This young boy is a devotee of Krishna and Vrindavan will be his place of worship." At that time Richard had disregarded those words but now he had finally accepted devotion to Krishna as his spiritual path.
Even as young Richard, Radhanath Swami displayed the qualities that scriptures reveal a sincere seeker of guru should have. An ideal disciple has a humble attitude and inquires submissively from learned teachers. Radhanath Swami presented himself as a fool and was humble even when dealing with a lusty guru who attacked him or even a pseudo guru who called him a fool for having left America. He inquired submissively from learned and qualified saints like Vishaka Sharan Baba, Rama Sevaka Swami and others. in Vrindavan Richard (now Radhanath Swami) was also inspired by the two brothers Rupa Goswami and Sanatana Goswami who had appeared five hundred years ago and are considered as two of the greatest saints of Vrindavan. Although they were qualified as ministers and aristocratic by birth, the two brothers presented themselves as fools in front of their guru. Richard was humbly following their footsteps, begging for their grace while seeking out a guru.
A genuine disciple is also said to have devotion to God. Radhanath Swami prayed to God even as a child while sleeping on bed. This gave seven year old Richie (Radhanath Swami's childhood name) a sense of shelter and a feeling that God was hearing him. Later at all Churches, Mosques, rivers, caves and temples, Richard prayed with feeling and devotion. A real disciple also practises truthfulness. On many occasions, different gurus were willing to officially accept him as their disciple. Although Richard felt honoured, he humbly and truthfully declined because his heart wasn't ready. His reasoning for not accepting a guru was his lack of confidence in his own sincerity rather than the credibility of the guru. He didn't want to disgrace a guru by not following his instructions later.
Radhanath Swami's sagacious words penetrate my heart, "Love of God is not achieved but awarded. Therefore we need shelter of God and guru, who will award this divine grace upon us."
Related Posts:
---
50 Comments
---