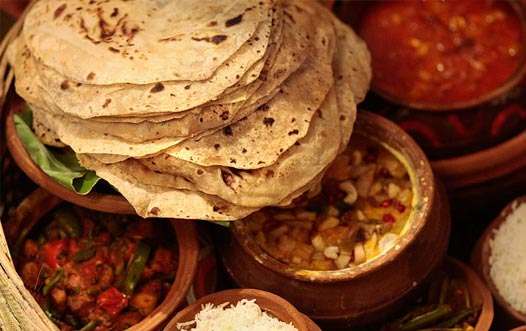 A pedestrian at Chandni Chowk offered Richard (now Radhanath Swami) food at a roadside restaurant. While eating his dinner Richard saw a white cow nuzzling its calf. Richard's heart melted upon seeing the gentle and graceful movements of the calf and the cow. The innocence that shone in the eyes of the animals touched  him and Richard thought how the loving exchanges they shared with each other is so similar to those of a human mother and her child. Just then the host pointed out to Richard the chunks of meat on his plate. Richard suddenly felt pained to realize that meat meant innocent animals are slaughtered in organized slaughterhouses. For the first time Richard made a connection between his diet and suffering of animals; he realized how humans are insensitive and cruel towards these innocent children of God. That night he vomited the meat and repeatedly dreamt of the cows. He then took a vow to never again eat meat.
While meat eating is not advisable for spiritual advancement, cow meat is certainly destructive. It takes a person away from God, says Radhanath Swami. Radhanath Swami personally served cows for over a decade in a farm in America. He points out that in the Indian culture cow is referred to as 'go mata, 'mother cow'. It's abominable for a cultured person to kill and eat the flesh of his own mother. In India thousands of places are named after mother cow ('go'): Gauhati, Gorakhpur, Goa, Godhra, Gondiya, Godavari, Goverdhan, Gautam, Gomukh, Gokarna, Goyal, and Gochar besides many others. These names signify reverence for the cow, and the abiding faith that cow is to be respected as mother.
The arguments for cow slaughter are no more uncontested. There are better sources of protein than beef. Any dietician's chart shows that beef with 22 per cent protein ranks below soya-bean (43), groundnut (31) and pulses (24 per cent). One kilogram of beef takes seven kg of crops and 7,000 kg of water to produce. Thus cow protection makes economic and ecological sense. Non-vegetarianism indirectly contributes heavily to greenhouse gases and other pollution. The UN report (2006) states, "Raising animals for meat as food generates more greenhouse gases than all the cars and trucks in the world combined".
'Radhanath Swami explains that we can tell a person's consciousness by what they eat and how they eat. There are people in mode of ignorance who like to eat all kinds of stale food or food that's product of bloodshed, murder and horrible suffering. That is the food in the mode of ignorance. Then there is food in the mode of passion, which is very hot and simulating to the senses and the mind. The vegetarian food is in the mode of goodness because it minimizes violence as far as possible. "But even if you eat vegetarian food, it's still sinful because it's the property of God, and there is some violence involved", says Radhanath Swami. Violence is far less compared to eating fish, meat, eggs and similar things. but it's still sinful because it's not completely free from violence. Therefore the best food, Radhanath Swami says is a vegetarian food cooked and offered with love and devotion to God; that makes it free of all bad karma.
Related Posts:
---
141 Comments
---