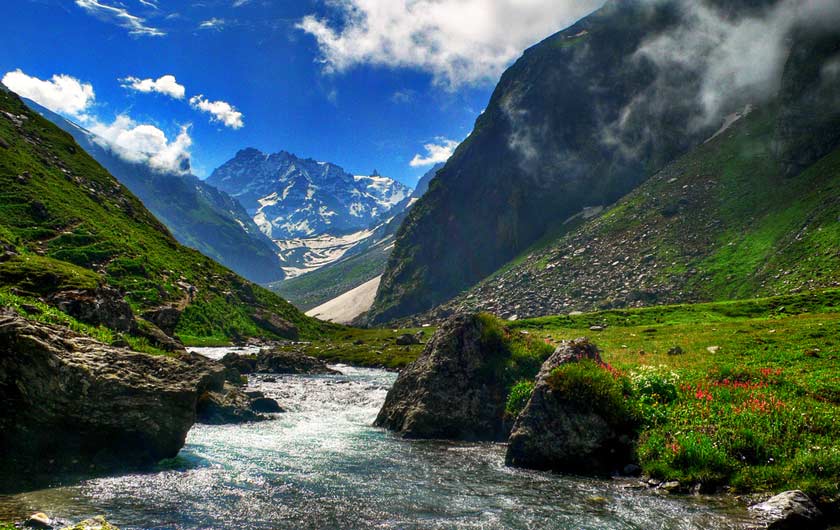 Meditations on The Journey Home – Lesson from Chapter 2

Inspirations 
from 
'The
 Journey 
Home ‐ 
Autobiography
 of 
an 
American
 Swami'
Richard's first sight of the Himalayan foothills exhilarated him beyond imagination. The foothills were covered with dense forests and he felt each tree emitting a kind of peace and serenity he hadn't experienced before. His first sight of river Ganges was like a spark that caused a sudden surge of spiritual emotions. Once while quietly meditating, he was approached by a golden complexioned holy man who had seen his determination, and now offered him the cloth of a sadhu, a wandering mendicant who has forsaken worldly attachments to pursue a divine life. This was two unstitched pieces of white cloth, one to cover the lower part of the body and the other one for the upper part. Richard prayerfully cast his western clothes into the river's sweeping current, and heard the Holy man's assurance that in time it will be revealed to Richard that Ganges will be his mother.
I often wondered what's so special about the Himalayas. Is it the marvelous height, snow peaks, the amazing beauty of Nature? But these things can be found in some other mountains, elsewhere in the world as well. This unique, majestic glory of the Himalayas is because of the spiritual culture that originated and flourished here. Almost all the saints and Holy men of the Indian subcontinent of the ancient times and many great spiritual sages of the modern times have chosen Himalayas for conducting their spiritual practices.  It is the impact of the deep spiritual practices of the sages that has enriched the Himalayas with divine spiritual vibrations. Austerities and meditation has been an integral part of every moment of the lives of the rishis, the holy men living here. Richard too humbly endeavored to follow their tradition.
Daily Richard spent hours sitting on the rock at Ganges and meditated on the Himalayan Mountains.
" The closest mountain took the shape of a heart at its very top. I gazed on it for hours thinking of how it symbolized for me the heart of God, a heart that is unlimited, giving ultimate shelter to all beings; a heart that is majestic and beautiful. Just as in climbing a mountain we leave behind the earth where we stand, to reach the heart of God we have to leave behind unfavorable earthly attachments. Sincere spiritual practice is an uphill climb, and no matter how many difficulties we face, we have to continue looking upward with hope. The mountain provides all support for those who strive to reach its top. Similarly, if we are sincere, the Lord will provide us with the means to reach his supremely merciful heart."
Quoting from the Bhagavad Gita, Radhanath Swami assures that if we are sincerely seeking God, He shall certainly help us reach Him, and care for us by providing what we lack and preserving what we have. In the crowded ashram for the monks at Radhagopinath Temple, sometimes a member may lose his towel or slippers, and that can be discomforting. Radhanath Swami assures them, "You may not find your towels, slippers or kaupins, underwear, here in the ashram, but be rest assured, here you will certainly find God and if you are sincere in your pursuits, you shall certainly experience God's reciprocation of love in your hearts. God does care for you and me, in ways inconceivable to us."
Radhanath Swami says, "Sometimes we may doubt that God is caring for us. At such times we should know that God protects us either directly or indirectly by doing what's best for our spiritual lives. And that means sometimes putting us in danger and unpleasant circumstances." Our challenge therefore is to see God's divine, merciful hand in all situations. God's merciful nature is like the Himalayas, tall, huge and assuring. Shelter of this grace is the only hope in our spiritual quest.
Related Posts:
---
111 Comments
---