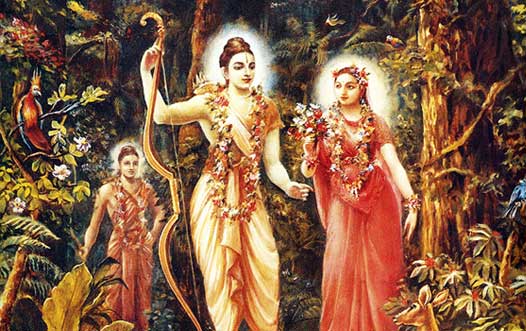 Each morning at Rama Sevaka Swami's ashram, five sadhus gathered to hear Ramayana, the story of Lord Rama. Richard (now Radhanath Swami) could understand only a few words here and there but Narayan Prasad promised Richard that he would translate whatever was spoken after the session. For three hours, the sadhus sat in rapt attention as emotions flooded their hearts. Sometimes they shook in laughter; other times they wept with joy or sorrow. Still, at other times they sat motionless in suspense, fear, and wonder. Richard was starving to hear the story that affected them so much. Narayan Prasad translated by narrating a story of Lord Krishna stealing butter. For three consecutive days Narayan Prasad translated only this story, and Richard was upset that although in the narration only Lord Rama's names and His associates were mentioned, Narayan Prasad was instead speaking only Krishna's stories. Seeing Richard (now Radhanath Swami)' desperation, Narayan Prasad revealed the secret that his guru Rama Sevaka Swami had told him that Lord Rama had appeared in his dream and told him that this boy (Richard (now Radhanath Swami) ) would later become a Krishna devotee, although he isn't aware of that now. In due course of time that will be revealed to him. Therefore Lord Rama forbade Rama Sevaka Swami from narrating these pastimes.
Although Lord Rama and Lord Krishna are same, there is a difference in the form in which they appeared, and the historical time at which they appeared. Rama, the perfect incarnation of God is an all-time favorite among Hindu deities. The most popular symbol of chivalry and virtue, Rama – in the words of Radhanath Swami, in his autobiography, 'The Journey Home'- is "the embodiment of truth, of morality, the ideal son, the ideal husband, and above all, the ideal king." Rama is seen as an archetype of righteousness and the most sought-after virtues in life. Rama is said to have taken birth on earth to annihilate the evil forces of the age. He is widely believed to be an actual historical figure whose exploits form the great Hindu epic of Ramayana or The Story of Rama, written by the ancient Sanskrit poet Valmiki.
Lord Rama is most often represented as a standing figure, with an arrow in his right hand, a bow in his left and a quiver on his back. A Rama statue is also usually accompanied by those of his wife Sita, brother Lakshmana, and the legendary monkey attendant Hanuman. He is depicted in princely adornments with a 'tilak' or mark on the forehead, and as having a dark, almost greenish complexion.
Although some wrongly informed people would like to believe that Lord Rama and Ramayana are mythological, the first Governor General of India, Sri Rajaji, wrote on the Ramayana and called it a history, as also did the English Indologist Sir William Jones. Various renowned western authors such as Philip Lutgendorf, Ann Arbor, W. L. Smith and others have made a study of the culture and history of the Ramayana, and accepted Lord Rama as real. There are also numerous places like Ramesvaram, Nasik, and Hampi, besides hundreds of other places that are indicated as the locations where various events happened in reference to the pastimes of Lord Rama and Sita. These places still exist and Radhanath Swami often takes a group of interested seekers on a retreat to these holy places.
The Ramayana is also geographically very correct. Every site on Rama's route is still identifiable and has continuing traditions or temples to commemorate Rama's visit. Around 1000 BC or earlier, no writer had the means to travel around the country inventing a story, fitting it into local folklore and building temples for greater credibility.  In 1975 the Archaeological Survey of India (ASI) unearthed fourteen pillar bases of kasauti stone with Hindu motifs near the mosque at Ayodhya; reports of the excavations are available with the ASI. In 249 BC, Ashoka erected a pillar in Lumbini with an inscription referring to the visit by Rama. Ashoka was much nearer in time to Rama and would be well aware of his facts.
On hearing that he is destined to be a Krishna devotee, Richard (now Radhanath Swami) dismissed this idea because he couldn't grasp what he had heard about his worshipping Krishna. Richard was all set to return to the Himalayas.
Related Posts:
---
---
131 Comments
---