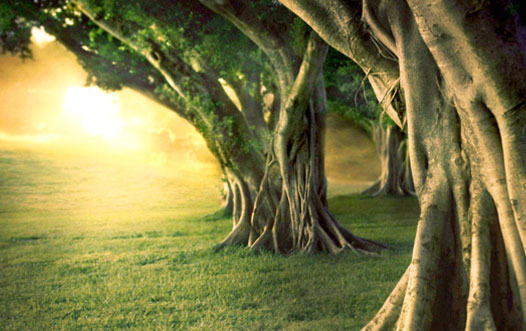 Richard (now Radhanath Swami) soon learnt that one of the most special devotees in Vrindavan was Krishnadas Babaji. Krishnadas Babaji would sing devotional songs with great absorption and often struggled to restrain tears. Although he was seventy years old, he was like an inexhaustible volcano, erupting with ecstasy each time he chanted the Lord's holy names. Richard learnt that Babaji knew fluent English but never spoke a word of it until it was absolutely required. Richard was particularly impressed by this because he had met many in India who would try to show off even little bit of English they knew. But babaji had no trace of arrogance.
In Krishnadas Babaji's association, Richard's misconception that silent meditation is the path of spirituality was shattered. He saw the obvious power of Babaji's knowledge, detachment and love, and concluded that chanting and dancing is not sentimental but a deep expression of love for the Lord. Babaji spoke with great feeling about Lord Chaitanya Mahaprabhu who descended five hundred years ago and distributed love of God in the easiest possible way.
Radhanath Swami recollects that Krishnadas Babaji was empowered to chant the holy names constantly because he had no trace of pride and sought no adoration. While teaching young Richard (now Radhanath Swami), Babaji revealed the essence of Lord Chaitanya's philosophy that one should strive to be  more humble than a blade of grass, more tolerant than a tree, and to offer all respect to others while expecting none for one's self. Only in this way one can taste the nectar of the Holy Name.
Humility, sometimes misconstrued as a weakness, is actually a power that few people tap. Radhanath Swami, quoting his guru, says, "Humility means the freedom from the anxiety of having the satisfaction of being honoured by others." Radhanath Swami also contrasts this by saying that pride, the opposite of humility, makes us crave for honour from others as our source of happiness. When a proud person is disrespected, his lack of freedom becomes appallingly obvious; he is forced by pride to lose his prudence and explode with words and actions, often hurting the other person and even himself far beyond what the situation warrants. Humility, on the contrary, brings freedom from the craving for external honour and empowers us to act for our and everyone's long-term good. Radhanath Swami's pearl like wisdom shines forth in his declaration, "Humility doesn't mean that we let others trample upon us without protesting, but that we don't let others' (mis) behaviour determine our decisions and lives. Humility allows us to calmly consider the cause of disrespect and maturely adopt a principled course of action to clarify the situation and rectify the misdemeanour."
Radhanath Swami gives equal importance to tolerance and considers it to be an underutilized power. A relative behaves unreasonably, a colleague speaks impolitely, a power cut upsets our plans, and another vehicle cuts across our path-such daily situations offer rich premiums for the tolerant. Tolerance empowers us to not let irritating circumstances steal our peace of mind. "Lack of tolerance makes us a victim of our circumstances", says Radhanath Swami, "whereas tolerance brings the freedom to choose an intelligent response and stay fixed in our values and goals, irrespective of our circumstances."
Radhanath Swami's emphasis on humility and tolerance brings to mind an example that one friend gave. Our biceps protect us from physical dangers. Similarly, humility and tolerance protect us from internal over-reactions to externally distasteful situations. Thus they constitute our inner muscles, which we can increase by the spiritual bodybuilding exercise of chanting the holy names of God.
Related Posts:
---
125 Comments
---