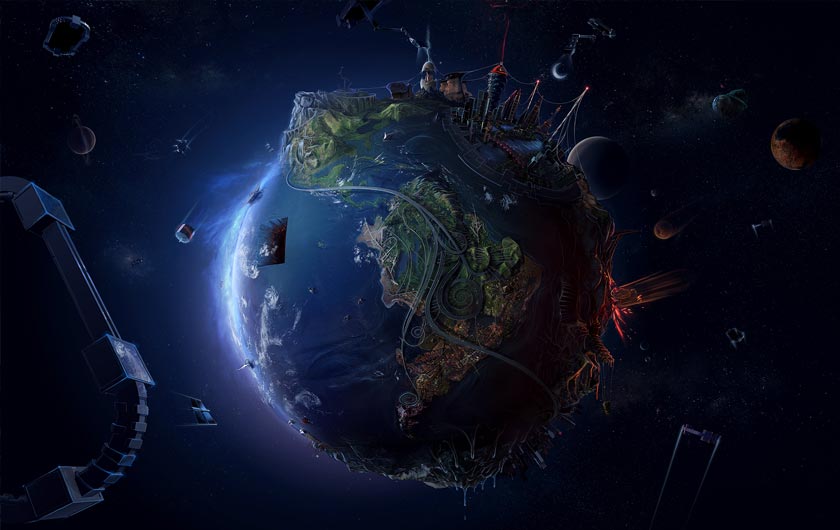 Richard saw a yogi in his late thirties beg charity from pilgrims. On being ignored he became angry, and performed miraculous feats to attract attention. He first pulled a live bulb from the socket, and crushed it to powder, and swallowed it by drinking a cup of Ganges water. Then he took a steel rod, and with one end on the wall, he balanced the other end of the metal pole on his eye socket which he had covered with a cloth. Then he slowly walked towards the wall, and the pole bent more and more with each step. Finally he reached the wall, threw aside the u-shaped rod, and removed the cloth to reveal his undamaged eye. As pilgrims lavished money, the yogi revealed the secrets of his power; his guru had taught him the powers but rejected his student on discovering that he was using it for money and prestige. The yogi now confessed that he needs money to get married, and make a living.
Richard was disappointed and realized that mystic powers are not necessarily spiritual.
"…it wasn't until this moment that I realized mystic powers were not necessarily spiritual at all. Those who were able to counteract the apparent laws of nature had naturally impressed me. So much of what I'd seen seemed miraculous. Now I saw that such feats unconnected to a meaningful search for God were truly insubstantial. I was looking for more."
India has many mystic yogis. Often people's evaluation of a guru is based on his ability to manipulate material laws; the more the power to create magical or supernatural feats, more the popularity. Genuine gurus however focus on simple devotion to God, avoiding cheap popularity through magical gimmicks. Radhanath Swami reveals his own guru's simple devotion to God that attracted young boys and girls of the counterculture, to surrender their lives for a spiritual goal. "He (my guru) was often asked by people if he could perform miracles", says Radhanath Swami, "and he humbly pointed to his students and said, 'my miracle is I have transformed hippies into happies!'" Following his guru's footsteps, Radhanath Swami teaches the simple process of chanting God's holy names and experiencing the presence of Lord in the heart through sincere heart-felt prayers. He quotes his guru, "Spirituality is simple for the simple, and complicated for the complicated."
He doesn't discourage the pursuits of mystic yoga, but warns that it can easily distract a practitioner to seek money and popularity. He compares possessing supernatural powers and yet using them for material gain to a vulture's business, "A vulture may fly very high in the sky but his eyes are cast on food on earth; on seeing a prey, he comes swooshing down. Similarly we may possess powers and abilities to exploit nature, and appear to be a regal spiritualist, but our consciousness could be stooped low in seeking worldly wealth and fame." This is especially lamentable because these powers are obtained after decades of rigorous austerities, but by the power of maya, illusory forces, one gets trapped by the same powers, and continues in material consciousness. Radhanath Swami therefore warns all spiritual seekers to be careful of the agents of illusion that tempt a seeker to pursue the ephemeral goals of worldly pomp and glory, a sure deterrent on the path of loving God.
Besides, the mystic powers also give a yogi the feeling of being in control of life, whereas a simple devotee of God feels helpless and calls out to God in love. This call for shelter increases a seeker's favorable remembrance of God, and brings him or her closer to the Lord. On the other hand, absorption in the self, and seeking to possess greater powers, takes us further away from God.
Related Posts:
---
147 Comments
---