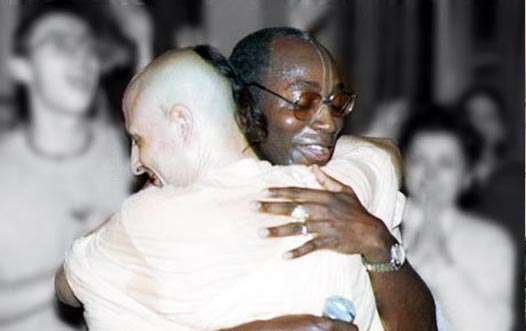 Richard (now Radhanath Swami) was wonderstruck to know of Srila Prabhupada's journey to the west. He compared it with his own journey and felt humbled and inspired to know about Srila Prabhupada's sacrifice and compassion for the people of this world. Radhanath Swami writes he was a nineteen year old with no money travelling from America to India, but Srila Prabhupada began his journey at the age of seventy and travelled to America with no money, knowing no one-only to be an instrument of the Lord's compassion.
One day Richard informed Krishnadas Babaji that Srila Prabhupada was in Vrindavan. The Babaji asked him to take to Srila Prabhupada. Radhanath Swami writes that when these two great souls met, their faces bloomed in joy and they exclaimed 'Hare Krishna' in great happiness. Radhanath Swami says the blissful smile he saw in Srila Prabhupada's face, he never saw in any human face. Both embraced each other and tears of happiness filled their eyes. For the next hour they conversed happily in native Bengali language, oblivious to all external situations. They laughed aloud and Radhanath Swami realized this is an incredible spiritual relationship these two great souls had. Radhanath Swami claims to have never seen such love and honour between two human beings. He felt he had received a glimpse into the spiritual world.
Radhanath Swami also shares such loving exchanges with his friends. During my travels in India, I once met Niranjan Swami, an old time friend of Radhanath Swami. Niranjan swami described to me his friendship with Radhanath Swami. "The last night I had a special dream", confessed Niranjan Swami. "I dreamt that I am in deep sleep, and Radhanath Swami is sitting next to me and lovingly pouring sweet rice, (a special Indian sweet) into my mouth. As he was feeding me spoon by spoon, he was lovingly calling out, Oh, my dear Niranjan Swami, please wake up." This is the only dream I had whole night. I am eagerly waiting to meet him." I also remember feeling then that this is a glimpse of a deep spiritual friendship. On another occasion I heard Radhanath Swami speak a long class on the glories of his close friend, Bhakti Tirtha Swami. It was on the order of Bhakti Tirtha Swami that Radhanath Swami has written his autobiography. After Bhakti Tirtha Swami left this world, Radhanath Swami felt great sorrow and separation from him and glorified him for over six hours in a class in Mumbai. I was fortunate to attend that discourse where over two thousand people heard the whole class in rapt attention.
Generally every spiritual centre or temple as the seat of a speaker, called vyasasan, on which the spiritual leader sits to give discourses. Generally this vyasasan is one small chair or cushion where only one person can sit. But the vyasasan in Mumbai itself speaks of Radhanath Swami's mood to serve and glorify all sincere spiritual practitioners. The vyasasan is big and six people can sit, and hence is unique of its kind. When Radhanath Swami gives classes he invites many of his friends to sit next to him, and then he glorifies them as if he has thousand mouths. Later when they get a turn to address the assembled crowd, and they express feeling embarrassed by so much love and praise, Radhanath Swami, with the twinkling of his eyes, grins, "aha…if you are embarrassed then our mission is successful". His genuine appreciation of devotees serving in his guru's mission is most inspiring and reminds me of one of his instructions he gave in a talk, "One should be willing to undergo any austerities to develop the mood of genuinely appreciating the good qualities of other devotees". No wonder his god brothers and god sisters love Radhanath Swami so much because he is wonderfully following his guru's final instructions, "your love for me will be shown by how much you cooperate with one another".
Related Posts:
---
79 Comments
---