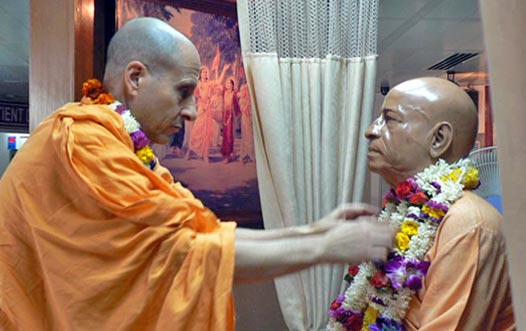 Richard (now Radhanath Swami) meditated on Srila Prabhupada's sacrifice, his enduring consecutive heart attacks at the age of seventy while travelling to America. Richard meditated on a prayer written by Srila Prabhupada when he was stranded on a cargo ship in the middle of the ocean on his voyage to America. In Srila Prabhupada's prayer Richard found humility springing from the heart of a man who had forsaken everything for the spiritual welfare of others. As he associated with Srila Prabhupada more, Radhanath Swami says he felt that all of the events in his life so far had been conspiring to bring him to this point. From the very core of his hart, a spirit of acceptance of Srila Prabhupada as his guru awoke. In this state, he felt joy and gratitude flooding his heart.
As Srila Prabhupada was leaving Vrindavan, Richard (now Radhanath Swami) approached him with emotion choked in gratitude, and spoke, "Srila Prabhupada, I wish to offer my life to you." Srila Prabhupada, his eyes also moistened by affection, said, "Yes, you are home."
Radhanath Swami recalls his feelings on that day in Vrindavan:
"An outpouring of gratitude sprung from my heart. For this blessing, I had endured dangers and hardships. For this treasure, my whole journey had been taken. For this precious moment, my soul had ached and yearned. God had revealed my path. The fog of doubt and apprehension had cleared and I now found myself before a fully enlightened spiritual master to whom I could dedicate my life. That for which I had offered thousands of prayers and shed countless tears to attain was now revealed. And how sweetly it was done. My joy knew no bounds. In his divine person, Srila Prabhupada embodied the teachings I'd discovered at the heart of every tradition I'd scrutinized. I experienced the timeless love and the wisdom of galaxies of saints flooding from his lips and drowning my every doubt as he spoke. He delivered a message that had been preserved through the ages by an unbroken line of masters who teach us how to realize our intimate relation with the all-attractive Beloved. In my heart had awakened a faith that this humble saint, so small of frame, was actually fully in love with Krishna, and that Krishna, the Supreme Lord, was fully in love with him."
My realization on reading this section was that the principles and practices of spirituality are most profound and subtle, far more than those of any other field. To pursue any field seriously, we get immense benefit by learning from a person who is experienced and learned in that field. Then how much more this could be true for spirituality. Seeing Radhanath Swami's meeting so many gurus and his final decision to connect to one of them, was a significant affirmation for me that we need a systematic training, shelter and guidance from one teacher. I began to feel that if we insist on practicing spirituality without a spiritual guide, we will most likely get lost in the plethora of philosophies and practices and not make any substantial spiritual advancement.
Sometimes we have a doubt on whom to choose as a guru. Radhanath Swami gives us handy tips. He says regarding choosing a guru we can adopt the same standard and caution that we adopt in choosing a doctor when we are sick. Certainly choosing a good doctor may not always be easy, but without the doctor, we will remain sick, bereaved of the health and energy, natural to us. Similarly choosing a guru may not be easy, but without a guru, we will remain spiritually sick, bereaved of the love and happiness natural to us as eternal spiritual beings.
A doctor capable of curing our ills must himself be free from those ills.  Similarly, a guru capable of curing our ills of ignorance and illusion should himself be free from illusion and ignorance and the worldly attachments they produce. I felt a helpful question to ask ourselves while deciding upon a guru is, "If I follow these teachings, at best I will become like this teacher. Do I want to become like him?"
When we want to choose a doctor, we implicitly understand that there can rarely be a self-appointed doctor; a competent doctor will be one who has been trained and certified by a pre-existing panel of competent doctors. Similarly, there can rarely be a self-appointed guru; that's why the first qualification of a genuine guru is that he or she has received knowledge through a succession of qualified teachers in a recognized school dating back to remote times.
Radhanath Swami and Srila Prabhupada follow a recognized school called parampara, a disciplic succession of gurus. This parampara affiliation has been standard for traditional spiritual movements. Radhanath Swami also gratefully shares, "To get a genuine teacher is God's rare and special blessing on us."
Related Posts:
---
64 Comments
---