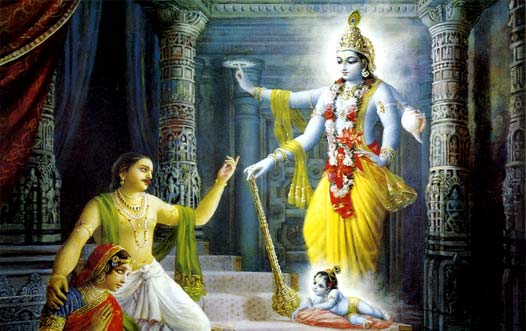 Gary and Richard (now Radhanath Swami) boarded a train at Varanasi, and were compressed in an overcrowded compartment. The sweltering heat suffocated the two friends. Besides, the monsoon storm had forced the train to stop at a place for two days. Finally, seeking relief Gary and Richard got down when the train halted at Mathura. When Richard enquired from a local sadhu about the place, he replied, "This is Mathura, Lord Krishna's birthplace. And today is Janmastami, Krishna's birthday." The sadhu also revealed that Krishna is their name for that one Supreme Lord who appears in this world to remove suffering and give us spiritual happiness.
Gary and Richard (now Radhanath Swami) then went to the birthplace of Krishna to witness the festivities. Hundreds danced and chanted to live music played with drums, flutes and cymbals. Both of them spent the whole day absorbing the wonderful sights and sounds of the birthday celebration. According to the scriptures, it was at midnight that Lord Krishna appeared in the city of Mathura. Now everybody waited for that moment. Although the temple was already packed with thousands, a steady flow of thousands more managed to stream through the door. The police tried to control the crowds in vain with long bamboo sticks.
Neither Gary nor Richard had ever seen such massive crowds. When the clock struck midnight, the doors of the inner sanctum swung open to reveal the altar of Krishna. A tumult of joy rose like a tidal wave. Enthralled, the people in the crowd were oblivious to being shoved and crushed. Old and young, male and female, rich and poor, all merged together with palms joined in prayer and eyes glossed with devotion. Small circles of villagers sang their own special songs, while everyone else laughed, cried, danced, and exuberantly called out Krishna's holy names. For Gary and Richard who had clung on to pillars, the eagerness of these pilgrims was astounding.
The birthday of Krishna is known to Indians as Janmashtami, and I have been fortunate to hear Radhanath Swami's talks on this special day. The different scriptures throughout the world address the Supreme Being variously as Jehovah, Alllah, Buddha, Rama and so on. Radhanath Swami says that the Supreme Person is full of extraordinary attributes, which make Him universally attractive. The name Krishna, meaning 'the all-attractive one' describes this all-attractiveness of the Supreme Lord.
Radhanath Swami explains that Krishna descends not just to maintain law, but to awaken love. The love that our heart longs for through relationships with various persons finds fulfilment when it is reposed in the Supreme Person God. "Because when we love Krishna, our love is never interrupted, never betrayed, never let down, and never disappointed", says Radhanath Swami.
Quoting scriptures, Radhanath Swami reveals that over 5000 years ago on Janmashtami, the Lord appeared at mid-night. This historical fact also has a deeper significance, according to Radhanath Swami. He says, "Midnight is the time of maximum darkness and from the moment the Lord appeared the darkness started diminishing. Similarly our heart is dark being afflicted by multiple anxieties and miseries. But in the darkest hour of our life, when we turn to the Lord and He appears in our heart, all the darkness recedes and the light of eternal hope starts streaming in."
Radhanath Swami gives a beautiful purport to Krishna appearing in a prison cell amidst shackles. "Krishna appeared in the prison and freed His parents from the shackles of the prison. This indicates that all of us who are shackled by our own self-destructive desires can be freed by the Lord who appears in our heart, which is like a prison house."
Related Posts:
---
128 Comments
---